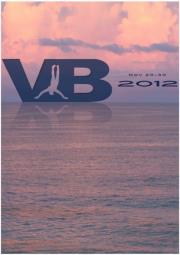 VERTICAL BLUE… A legen – wait for it! – dary event in the freediving circuit! A must-see competition, must-dive if you are a diver! Dean's Blue Hole, this incredible spot, a salt-water swimming pool, with warm, calm waters that run 202m deep… an underwater cathedral, known as the world's best freedive spot, is hosting the 2012 edition of the famous Vertical Blue competition. More than 50 athletes, coming from all over the world will confront one another and try to be the deepest in three disciplines: constant weight with/without fins and free-immersion.
In this edition we are expecting a new world record in constant weight: Alexey Molchanov, Guillaume Nery and William Trubridge have been training hard, and will be trying to take down Alexey's current record – they have to dive to more than 125 meters at some point of the event! Tomorrow Alexey is diving to 121 meters and Guillaume to 110 meters. Let's see how the coming days will look like!
Other really exciting dives for tomorrow: Ashley Futral Chapman will try to steal back the women CNF record from Natalia Molchanova with an announced performance of 67 meters. A lot of other national records: Nick Mevoli (USA), Rob King (USA), Walid Boudhiaf (TUN), Mike Board (GB), Iru Balic (VEN), Simon Benett (CHI), Yaron Hoory (ISR). And last but not least, our national champion Morgan Bourc'his will also try to break his no-fin record with a dive to 82 meters! ALL THAT IN 1 DAY!!! And there will be 8 more days to come!! Can you imagine!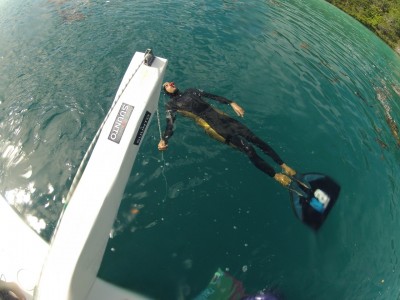 Remy will also be diving tomorrow, CWT… not trying to break any national records though – damn you Guillaume Nery, you set the level so deep, it's unfair! – but he announced a nice 90 meters! He did it last week already and it went well, so we trust him to go even deeper in the coming days! Go Remy!!!
You can follow all the action LIVE in real-time on internet, as we have a commentator – Daan Verhoeven – who will make a streaming broadcast, and give you all the details and stories throughout the day.
We will also publish the results at the end of each day as well as the announcements for the following day so you can keep track of all the 2012 Suunto Vertical Blue adventures.
Stay tuned for more about the competition in the coming days!