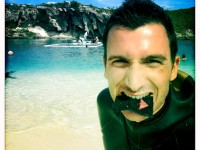 Vertical Blue… What an experience! I trained hard the past 2 months and got rewarded!
Ok, I got a yellow card first – equalization and a bit of anxiety don't do so well together 🙂 – but then, 3 white cards in a row with 90, 92 and a nice dive to 94 meters! Yesterday I was feeling very sore and tired but I still wanted to do my dive… 95 meters would have looked good on the ranking! The only thing is apparently you cant take a little nap at the surface! even if you are tired after such a long swim! Red card for this time…
Anyway, my objective coming here was to make official a performance below 90m in Constant Weight with Fins in order to prepare selection in the French national team for next year's World Championship. And this was achieved since the first act of the competition.
So for the last day tomorrow, I decided that I'll do a test dive with no weights, only 80 meters. An easy nice dive to enjoy Dean's Blue Hole one last time before the closing party!