When Blue-Addiction goes to Crete, it's for no less than 3 different missions. This year, the 3 weeks of the Med Cup were action-packed!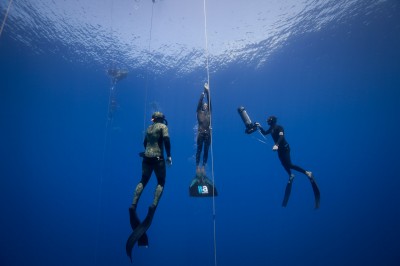 THE COMPETITION: yes, of course, Remy was there to compete. Getting back on track for this season and preparing his progression for the world championships was the goal of those three weeks. The weather conditions didn't allow the competitors to dive as much as they expected, but at the end, that was a good challenge for Remy: he managed to get back to his PB, 94 meters, after only a couple of dives. And physically… nothing to compare, it's easy… it seems that the hard training sessions at the gym with his coach Christophe Lyonnard and the hundreds of kilometers cycling with Guillaume Nery are paying off! The surprise came from an unexpected guest: a massive – violent – hallucinating, euphoric narcosis! Remy next challenge is to tame it in the coming months… a necessary step to reach the 100 meters!
And with only 2 disciplines out of 3 – 90m CWT and an easy – no training – 57m CNF, Remy is still on the 3rd step of the podium and comes back with a nice bronze medal. A small satisfaction and very good vibes for the next competitions! Stay tuned for the Nice Abyss in July!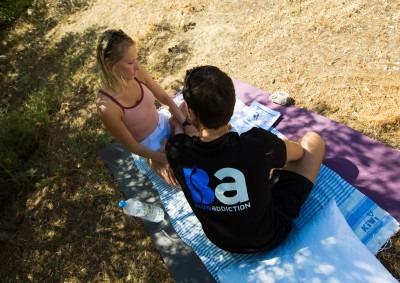 THE COACHING: On top of being a competitor, Remy was also coach and instructor at the Med Cup. He spent several afternoons giving deep equalization workshops to other athletes and helped Alice Modolo to fine-tune her mouthfill equalization technique. After a few dry-land sessions blowing up balloons and being amusingly stared at by tourists passing by – true that it couldn't look less like a top level freediver coaching to them! – after a few days, the efforts are paying off! With a more controlled technique, Alice pushed the French constant weight record to 81 meters on the last day of the competition! A well-deserved success for her ! B-A is proud to have had the opportunity to help her on her way. On top of this, Thomas Brossard successfully passed his AIDA 3*, and improved his personal record from 26 meters before the course, to a nice 37 meters during the competition! Well done! In short, there was no holidays in Crete for Remy…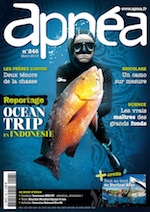 THE PRESS: An article on B-A website, that's interesting… a full page in APNEA MAGAZINE, that's even better! Chloe ensures the media coverage, and prepared a nice article on the French Mafia in crete, to be published in the August release of the magazine, with exclusive pictures. We'll post a copy of the page when we have it!
READ MORE ABOUT IT :
Thanks to Daan Verhoeven and Guillaume Nery for the pics.