The Arch of the Blue Hole in Dahab has been a silent partner in many of my training dives last year. It was there, imposing, silent, shining my way up of its blue halo after a successful dive. Then it would fade away in the depths, leaving me with my safety diver after just few more kicks. I used to come up from every dive eyes open and facing the reef to see her. At this time, actually freediving inside was nothing more than a fantasy, something you consider impossible.
But at some point, when I started diving deeper than 75m, our relationship changed. After my turns, I had to tilt back my head a bit more so see her fully. Then she was staying in front of me for ages, not fading away at all though my legs were getting lactic and tired (yeah, I was on bi-fins..), leaving me with the feeling I was going nowhere. So we broke-up and I started closing my eyes on the way up, trying to ignore her demoralizing stillness.
During following sessions I focused on technic and steps of my dives in an effort to forget her. I failed: she was still on my mind. Hopefully, I realized that thanks to training I just got completely relaxed with my new depth, even going there for fun and sometimes despite poor conditions. My Arch became attractive again, it was time for reconciliation. The fantasy became an objective. But The Arch is a lady you need to respect and I had only few days left before leaving Dahab for new adventures.
So with Stefan Randig, brilliant german freediver with whom I mostly trained in 2011, we organized a tandem dive on the 5th of december, variable weight, accross The Arch. This film is the story of our dive: a friends' adventure who led us diving on one single breath down to 58m, then fin across the 30 meters long tunnel, and finally ascend back to the fresh air.
We hope you will enjoy it as much as we did!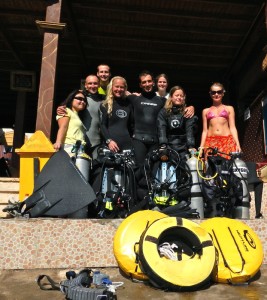 This adventure has only been possible with the help of our 8 dear friends involved in safety, filming or surface support – Emmy, Chloé, Satomi, Alena, Marianne, Fred, Jonathan & Michael – & Freedive Dahab for the equipment.
Meet Stefan on sr-freediving.com