MOUTHFILL CLINIC – 1 to 3 days – 120€ a day
Stop wasting expensive training weeks picking-up advice around you to eventually improve your equalization technique over months or years, and take a 1 to 3 days course, depending on your experience and needs, to efficiently and safely unlock new depths.Mouthfill equalization is a technique that helps to equalize deeper keeping your lungs safe. But we remind that approach of depth should be done step by step, and equalization is not the only component in this process. This course thus aims at experienced divers who are already prepared to depth, have good flexibility, good technique and dive comfortably to +/- 35m.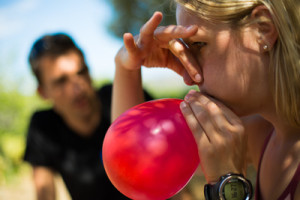 The courses usually consists in:
1 theory and practical session where we'll go through the physiology of mouthfill equalization technique, do some dry exercices designed to develop your awareness of the different muscles involved and put all this together to equalize using the full mouthfill technique. You will finally learn dry exercices to keep on practicing back home as homework and improve your technique.
2 water sessions where you will practice going down on a line the skills approached during the practical session. You will first dive to shallow depths on passive exhale, then once the technique will be mastered on deeper full lungs dives, most likely on the last session. You will be closely monitored underwater and precisely debriefed after each dive. You will thus be able to learn properly and efficiently the technique, or correct and fine-tune it if you already have some experience but still make the usual mistakes like loosing the whole mouthfill, using it too fast, having difficulties to equalize despite a mouth full of air, etc.
The potential following days will be organized with you according to your needs we identified together.
Prices: