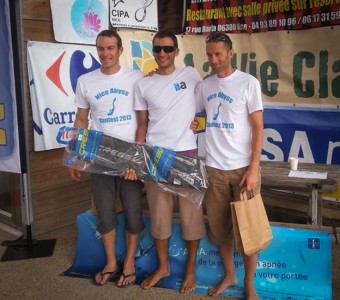 The BA team hit again this week end, at the Nice Abyss Contest… Remy is winning the CWT with a dive to 91 meters, and the FIM with 81 meters ! That's an honour to climb on the highest step of the podium of the famous competition organized by Guillaume Néry, and compulsory step to the qualification for the World Championships.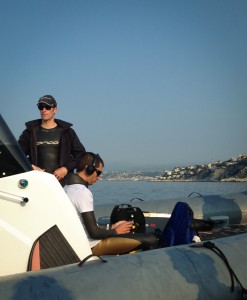 The other WC's aspirants also validated some nice dives: in CWT Nicolas Girardin did a very neat 82 meters, and Stephane Tourreau, 80m, althouth he couldn't train that much yet this season. In no-fin, no surprise with a win of Mr. Perfect, Morgan Bourch'is, 72 meters, and still far away from it's personal best. In Free Immersion, we also saw a new WC contender stepping on the podium, Ulysse Portier, with the 2nd deepest dive after Rémy, 77meters!
For the girls, Alice made a noteworthy entrance onto the FIM discipline, taking the French National record to Aurore Asso, with a dive to 71 meters. Aurore, still convalescent, with a weak shoulder, managed to validate a very nice 60 meters. Those girls are real fighters!
A highlight of the competition was also the presence of Mr. Herbert Nitsch! Not to compete of course, but to be around, and share the competition's athmosphere. A bit impressed by this legend, we couldn't resist taking a fan picture!
And big news, we are publishing 3 pages about the NAC2013 in Apnea Magazine, in September! We'll put the pictures on-line for those who can't buy it!